I know what you're all thinking, 'There's just no way a one piece can look cool or good or flattering or make you not feel old and out-dated'. I'm here to tell you that's simply not the case. 2017 is shaping up to be the year the one piece makes a comeback, and I'm not the least bit upset about it….and after this post, you won't be either.
So everyone can see just how versatile and awesome a one piece can truly be, I've rounded up my very favorites of this season. As well as a few tried and true numbers for those haters of swimsuits out there who feel like they don't ever look great at the beach–girls, I've got you covered!
Ruffles and off the shoulder–could this suit be any more this season? Combining some great trend in classic black with a $40 price tag, buy and buy it now!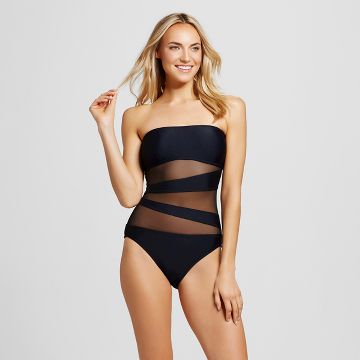 Another great black suit with a hint of mesh cutouts makes me oh so happy, y'all! This one is from Target and also $40, which makes the look just a little bit sweeter.
A one piece that's this cute for $15? What a steal. I'm a big fan of white swimwear(I know, not everyone is), but in case you're loving this adorable ruffle but can't handle white–it's also available in black!
In a previous post, I carried on about palm print and my love for it. For those of you who aren't the biggest fan of bikinis, here's a little palm for you! This suit is a little more pricey, but well worth it!
This is the one piece my dreams are made of, y'all. I'm currently about to order it via Old Navy because I just can't imagine my vacation without it! At a little under $45, it's still pretty budget conscious and effortlessly stylish.
If you're loving this spring's blush trend as much as I am then this sweet suit is sure to be at the top of your list. I found it on walmart.com(seriously!) for under $30, so snatch it up before it sells out!
Are you guys diggin' the return of the one piece as much as I am? I'd love to hear about the great suits y'all have found! Thanks so much for reading!
XO,
Jess