Who else is over the moon that it's the weekend?? I know I'm not the only one….. Lately, I've been thinking about adding some weekly "staple" installments that you guys can count on reading on a set day of the week. So, my first venture in this arena is going to be Friday Favorites. Every Friday I'll round up five things I've been loving that week, and y'all can read about them here! How does that sound?? I know I'm loving it! This week is heavy on the clothes faves and I won't lie–guys there could be weeks that it's all clothing. If you know me at all, this statement isn't the least bit shocking, but I'm going to try to mix it up with beauty products, home goods, and even restaurants and foods I'm loving! Now, drum roll please–introducing
FRIDAY FAVORITES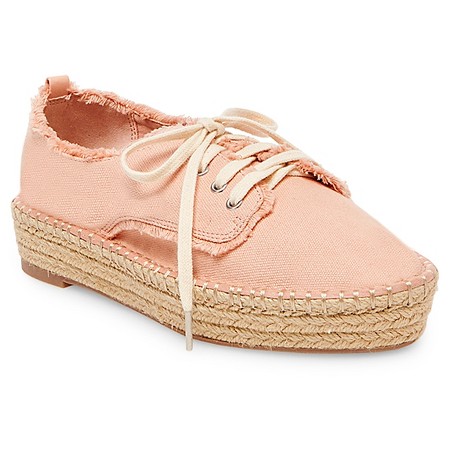 I have been eyeing these canvas sneakers for quite some time now. I'm really not sure how much longer I can hold out, guys! This color is my absolute favorite for spring and summer, but the shoe is available in three others including a black and white stripe that I have been seeing EVERYWHERE. The pastels are great for warmer months, but if you're looking to invest in a pair that will work for all season, you can't beat black and white. I'd bet they'll still be sticking around when fall rolls back around. They're online or in-store from Target and a steal for under $30.
Weekends on repeat, am I right?? This tee is currently $15 from Old Navy, but keep an eye out for sales! My work ladies have turned me back on to Old Navy(they're addicted). I had completely forgotten how many cute things and great deals you can find there!
I stumbled across this bomb mascara when I was still doing Ipsy and it was one of the greatest finds, y'all! I actually have Smashbox Full Exposure mascara, as well and guys, they're worth paying a bit more than what I'd normally pick up at the drugstore. I don't wear a lot of make-up in my day-to-day life. I usually reserve it for special occasions, but mascara is one thing I rarely leave home without. I currently have this in a travel size and it has lasted MONTHS, guys. I love it so much that it's replaced all drugstore mascaras in my make-up bag. It makes my lashes dark and full without the dreaded spider eye!
Over the last few years, I've become a huge fan of white. I love it on my body, I love it in my home, I love it on everyone! I feel like it just brightens everything up, especially when you've got a nice little summer bronze working for you. This ruffle dress is just too sweet, and at less than $40? Girl, get yourself to Express and pick one up!
That Old Navy addiction is starting to spread, guys! These jeggings are the perfect distressed black denim that I'm calling a new closet staple. The best part?? They look great on just about every body type! The frayed hem is THE thing right now, and this pair is to die for!
So, top five things I'm loving this week–what do you guys think? Are you loving them, too? I'd love to hear the trends that are currently filling your closet! Be sure to stop in next Friday to see what makes the cut!
XO,
Jess