Who doesn't struggle to find just the perfect gift for everyone on their list each year? Doing so on a budget is even more difficult! Fear not, I've compiled a list of great gifts under $50 for your the women in your life.  I selected a range of items that really can be given to just about any woman on your list this year. I've also included a breakdown of who I might want to give these sweet gifts to, for inspiration if you have trouble deciding who you should gift which item!
When you fall completely in love with something, don't you immediately want to share it with your BFF? That's me with this candle, only I think every woman in the world deserves one.  This scent is to die for! I truly haven't found a scent from Voluspa that I didn't love, so you're safe with whichever you choose!  They're also available in a wide range of boutiques and department stores, as well as online–hello, easy access! The great thing about candles is they're great as a gift for everyone and every occasion! Mother-in-Law, hostess gift, baby shower, best friend Christmas, or even yourself! The two wick, 12 oz. version comes in at $19.00, and is reputed to burn for 50 hours.
Trust me, your grandmother would love these to relax around the house in.  That said, these sweet little babies will work for pretty much any lady on your list.  They're currently on sale for only $23, what could be better than that?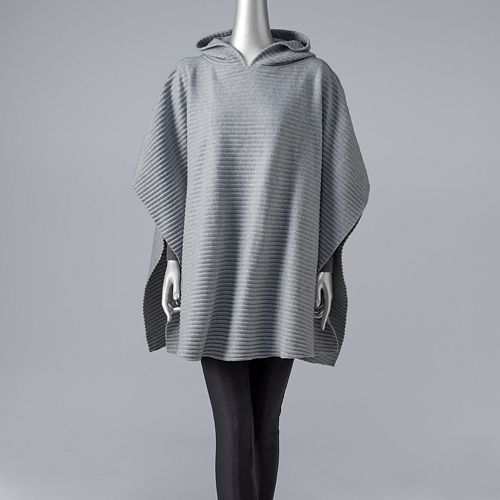 If you're like me, you struggle to find things that your mom will love.  While she wants to be somewhat hip, she also really isn't in to being as daring as I usually am in the fashion arena.  This poncho is great for just such an emergency! It seems this year that the poncho trend has broadened itself to all age levels, instead of younger crowds, and I for one love it.  This Vera Wang rendition is about $40, and who doesn't love this silvery gray? The elegant design makes it great for a person who is sometimes hesitant to try out  what's "hot" right now. I know my friends would likely wear this just as much as my mother!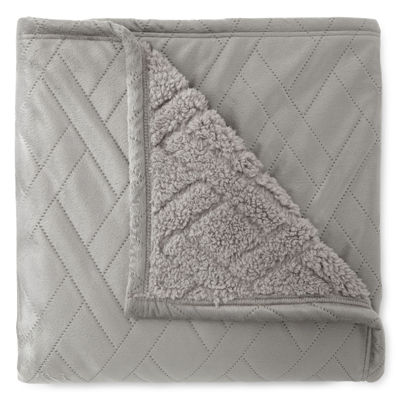 How cozy does this throw look? Can't you just see your aunt curled up on the sofa under it? Me, too! I'm always a fan of a good throw as a gift, my family is probably nodding their heads in agreement, but hey–you can never have too many!
You may recognize the similarity between this scarf, and the beautiful one I was wearing in my first Thanksgiving post here.  This option is crazy affordable(from Wal-Mart!) and in my humble opinion just as cute! Plaid blanket scarves are all the rage this season, so I'm seriously considering one of these little guys for all the ladies on my list.
Y'all, I'm in love with this mug.  And as a girl with way too many mugs as it is, what's another–right? Coffee mugs are a great for work exchanges. Every human drinks, tea or coffee! Or hot cocoa–who doesn't love hot cocoa? Seriously, snag an adorable mug from your local Starbucks, and pick up a handy holiday cocoa package here, and TADA! instant budget friendly gift!
Women love bath robes.  Something about the satin makes us feel like a million bucks, and usually Victoria's Secret has the same effect.  So, what could be better than a bathrobe from VS? I know that men tend to be a bit more practical in their gift giving, so here's my pitch guys: buy this for your lady, she will love it AND wear it all the time. Hopefully Mr. Jay is reading this post–wink, wink.
Mother-in-Laws can be tricky.  You want to impress her, but make sure you give her something she will actually use.  You know, moms love things like that.  My advice here is get her something your mom would love, and be yourself.  The thing I love about James Avery jewelry is the understated, classic style.  It works for women of all ages. If you're hesitant about gifting earrings, the company also has a beautiful array of bracelets (their charm bracelet collection is always a huge hit!), necklaces, and rings.
  A bottle of wine is always my fall back gift. When paired with these great festive glasses it's perfect! You could even mix it up and throw in some champagne for  a NYE party!
This stuff, y'all–I really cannot say enough. I've been a fan of this Bath & Body Works line for years, and my grandmother uses it religiously.  These jars of scrub smell heavenly and are the perfect size for a stocking at a great price.  There are also gift collections which include lotions and washes, if you're looking for a bit more than just a stocking stuffer.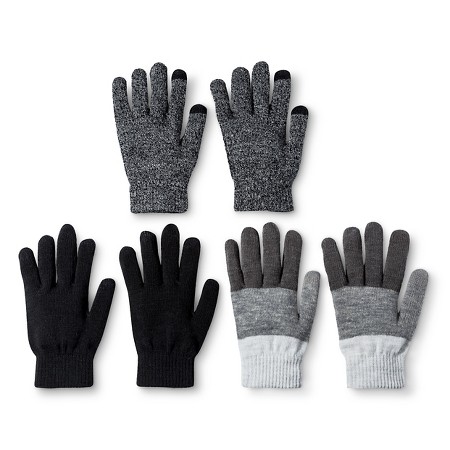 EVERYONE(but also a great stocking stuffer)
It's 2016, and I'd venture to guess that just about every woman you know could use a pair of tech touch gloves! How else will they text to thank you in the snow? This three pack set is right at $10, and could also work really well as a stocking stuffer. Ladies who are reading this: get these for the men on your list, as well!
I'd personally be over the moon to receive any or all(wink, wink Mr. Jay) of these great little gifts! Which do you love?Thanks so much for reading!
XX,
Jess