Who else literally cannot wait for Thanksgiving? I'm so ready to stuff my face–pass the turkey, y'all! As promised, I'll be delivering a new Turkey Day outfit each week to hopefully provide a little inspiration for your celebratory attire!
Today's look will leave you a little more room for that extra slice of pie we all squeeze in! If you plan on taking full advantage of all the food options(I definitely do), a dress is likely a more comfortable option.  This cute chambray number was given to me by my roommate and I love it! Cool, forgiving and comfortable, just what I was looking for!
I literally wear this shirt probably twice a week, minimum.  I, for one, am so happy that this classic tee is back in–hopefully to stay! You can find some version of the cream and black stripe in just about every store, so your options are limitless!
My mom gave me this beautiful emerald crocheted scarf a few years ago, and it's still one of my favorites! I also love to wear it a little closer to Christmas–so festive! This outfit could totally rock the great plaid scarf I showed you guys last week, as well! I love mixing prints–get creative with it!For those of you who were wondering–yes, I did color my hair! I love a dark chocolate for the fall/winter!
This is the first pair of riding boots I ever owned, and I'm still so enamored with them! They're Ralph Lauren and sadly, I couldn't find an exact pair, but I linked some similar pairs, below! I love them with jeans, dresses, tights–you name it!
My sweet little Auden sent me this pumpkin when her mom visited a couple of weeks ago, and I just loved it so much that I have to include it! Thanks for reading!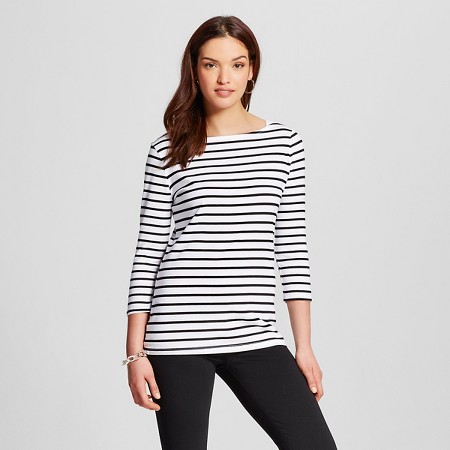 Classic Stripes for Under $4!!